Welcome Home Real Estate realizes the importance of supporting and promoting local artists. Each quarter Welcome Home Real Estate highlights a local artist on our website and creates a real estate listing sign featuring their art.

Susan Day Philbrook
~Sunny Day Designs~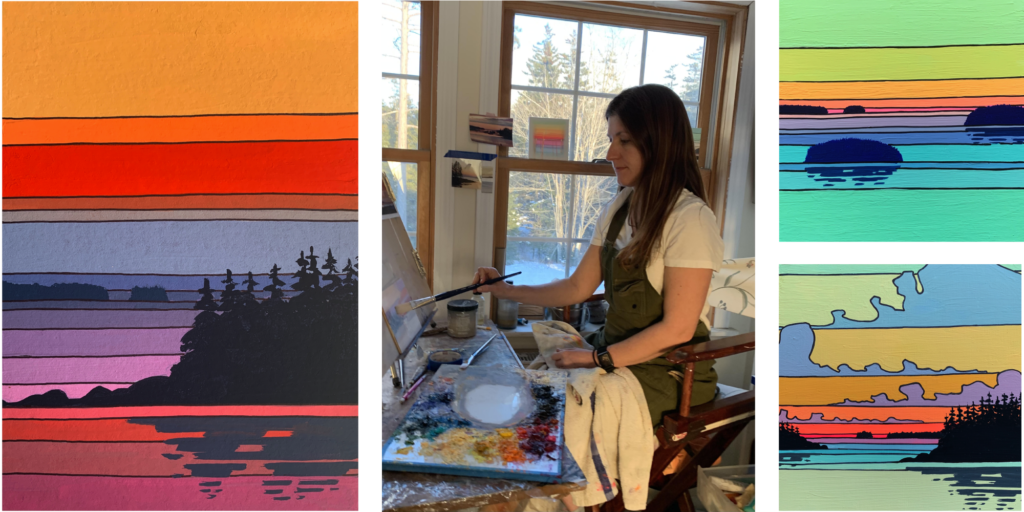 Artist Bio-
I was born and raised in Northern California, but each summer my family made a cross country trek to the small island of Vinalhaven, off the coast of Maine. Even as a child I  seemed to always know that this is where I wanted to spend my life. There is something  unique about Maine: the people, the change in seasons, the colors created by the rise  and fall of the sun. When it came time for college I chose to come to Maine and upon  graduation was more than excited to accept a job teaching French on Vinalhaven. I feel  very fortunate to be living on this small island raising my own family.
Although I have painted leisurely and sporadically for over 20 years, the last five years I  have made a conscious effort to make it a priority in my life. Painting offers a way to  express myself like no other. I appreciate the opportunity to escape the everyday of life  and get lost in the process of creating and playing with color. Living on an island  surrounded by water offers endless inspiration. I am in constant awe of the color and  light created by the sunset skies and ocean here in Maine and I feel overwhelming  gratitude to be witness to them so frequently. My paintings, both my oils and my  gouache, are a means for expressing this gratitude.
Color is the primary focus of my work. I enjoy trying to recreate the magnificent colors I  see in the everyday Maine landscape or, as with my gouache paintings, simplifying what  I see into dramatic color studies. Shape has also become an integral part of my work  as I am fascinated by the many different forms of islands, ocean, and sky and how they  layer with each other to create different shades of color and light. Over all else, I hope  my work creates an appreciation for the unique, breathtaking, and humbling landscape that is coastal Maine.